What Are Recycling Robots?
Sorting waste is an expensive business! Paper, plastic, glass, metals are all valuable waste products but they must be separated first before being sold on. It's a tedious and laborious task for humans and it is costly for the owners of Material Recovery Facilities. However, aided by artificial intelligence, robots are now available to help with the sorting of waste.
In this post we explain exactly what recycling robots are, how they work and where they are used. We will also show some examples of companies who have taken the leap and installed robotics into their waste recycling facilities and are seeing huge benefits.
How Does Artificial Intelligence (AI) Work With Robots?
Where are Recycling Robots Installed?
What are the Benefits of Using Robots vs Humans?
What Type of Waste do the Robots Pick?
What is the Return on Investment?
Real Examples of Recycling Robots at Work
What are Recycling Robots?
Guided by artificial intelligence (AI), robots are deployed in Material Recovery Facilities (MRFs) to detect and sort specific waste materials. The AI-vision system learns how to identify different recyclable waste materials and the robots intelligently perform the physical tasks of sorting, picking, and placing material into the correct chutes. They can perform twice as fast as humans.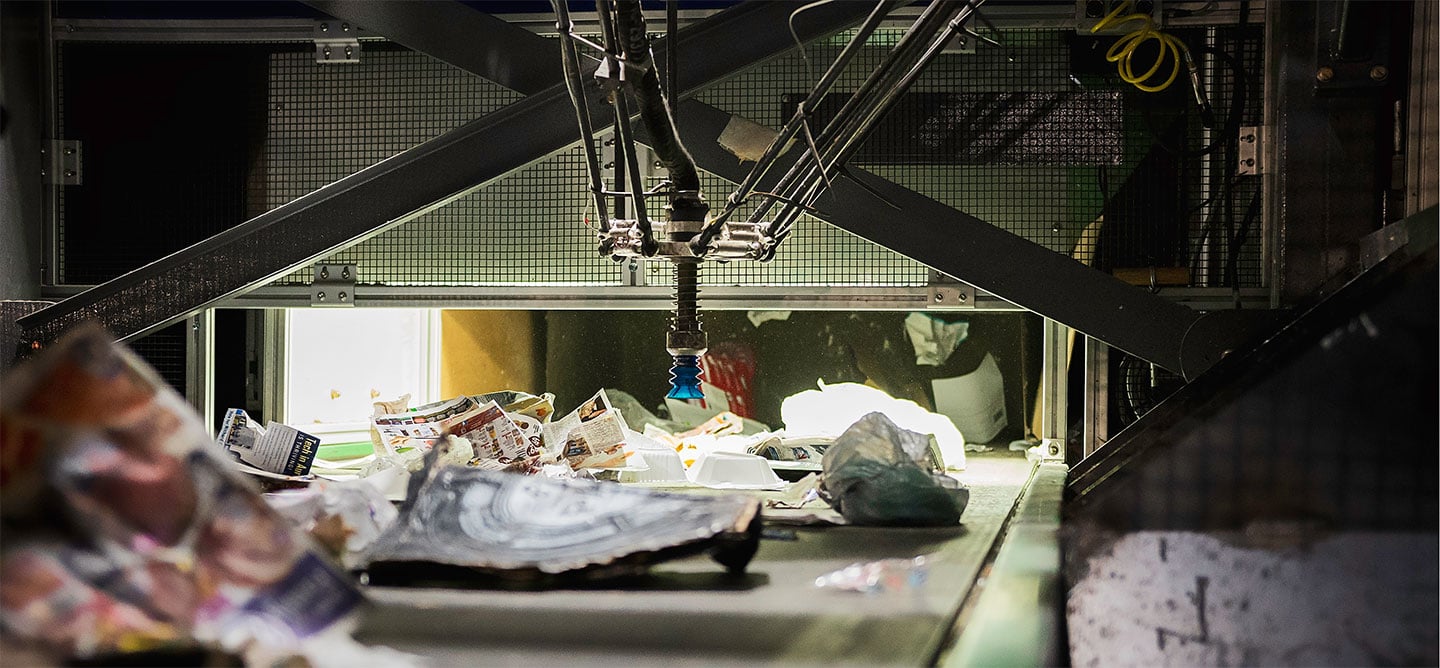 How Does Artificial Intelligence (AI) Work With Robots?
The AI-vision system applies computer vision to process millions of images to map complex material streams. It applies deep learning to continuously improve the precise identification and categorisation of paper, plastics, and metals by colour, size, shape, opacity, form factor, brand, and more, contextualising and storing data about each item it perceives.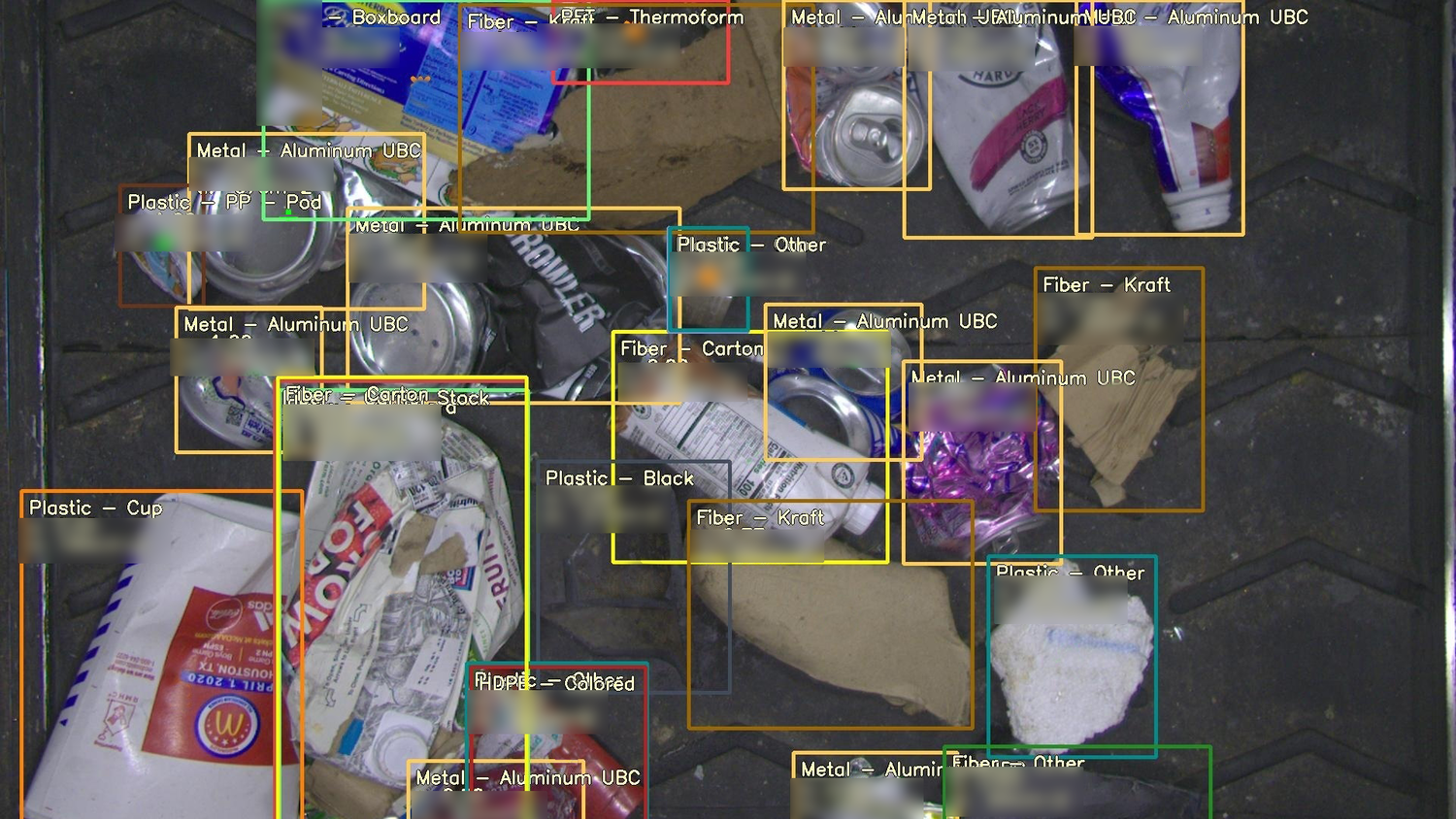 We have more information on artificial intelligence in our blog post: How Does Artificial Intelligence (AI) Work with Robots?
Where are Recycling Robots Installed?
Recycling robots are ideally installed in waste recycling factories or Material Recovery Facilities (MRFs). Waste is deposited at the start of a conveyor and makes its way up to be sorted. Guided by AI-vision system, the robots identify the type of waste to be picked, grab it and place it into the relevant sorting bin.
What are the Benefits of Using Robots vs Humans?
There are many benefits of using robotics vs humans. One robot head will replace 1.5-2 people and a tandem robot will replace 3-4 people. Unlike humans, robots will not get tired and as a result the productivity remains consistent. There are no sick days, breaks or holidays - it helps plant owners take control of their plant. The robots can achieve between 60-80 picks per minute.
What Type of Waste do the Robots Pick?
The robots will pick from various waste streams such Dry Mixed Recyclable (DMR), Municipal Solid Waste (MSW) and Construction and Demolition (C&D). They will sort materials such as cardboard, paper, plastics, metals, wood and fibre.
What are the Purity Rates?
Robots can achieve an impressive 98% accuracy. Plant owners know only too well that better purity rates will decrease bale contamination and there is less chance of costly bale rejections.
What is the Return on Investment?
At the consideration stages, a full ROI exercise is completed where all data is entered into a spreadsheet. Plant owners operating robots have seen a return on investment of 2-3 years.
Real Examples of Recycling Robots at Work
#1 Recyco Waste, Northern Ireland
One of our customers, Recyco Waste, a leading waste & recycling company in Northern Ireland, took decisive action to combat labour shortages by installing AI-guided robots into their recycling facility. It was the first installation of its kind on the island of Ireland!
We installed two AMP CortexTM robots – a single unit along with a tandem unit – on Recyco Waste's fibre lines to improve pick rates and bale purity. The units are picking up to 80 items per minute and the company has recorded up to 150 picks per minute with its tandem units.
Owner of RECYCO WASTE, Michael Cunningham explains,
"Where the dual robot is now, I previously had four people there, running out over two shifts - so that's removing eight people per day. Where the single robot is, I'm replacing two staff per day on that. It's doing every bit as good a job as a human labourer was doing previously.

Unfortunately, due to a mix of Brexit and COVID, we have been experiencing serious labour shortages. The robots have allowed us to take back control of our plant. The benefits I'm seeing from using robots and AI, as opposed to using human labour is that productivity remains consistent right across the shift. There are no breaks, no holidays, no sick days. We have had to move with the times, and we're proud to be leading the way for AI-powered recycling in these islands."
You can read the full story here...
#2 Evergreen, USA
Evergreen operates plants in Clyde, Ohio; Riverside, Calif.; Albany, N.Y.; and Amherst, Nova Scotia. The company has 15 of AMP's robotic sorting systems guided by artificial intelligence (AI) installed or planned across three facilities. In addition to six robots in Clyde, Evergreen has added six in Riverside, and will add three soon in Albany.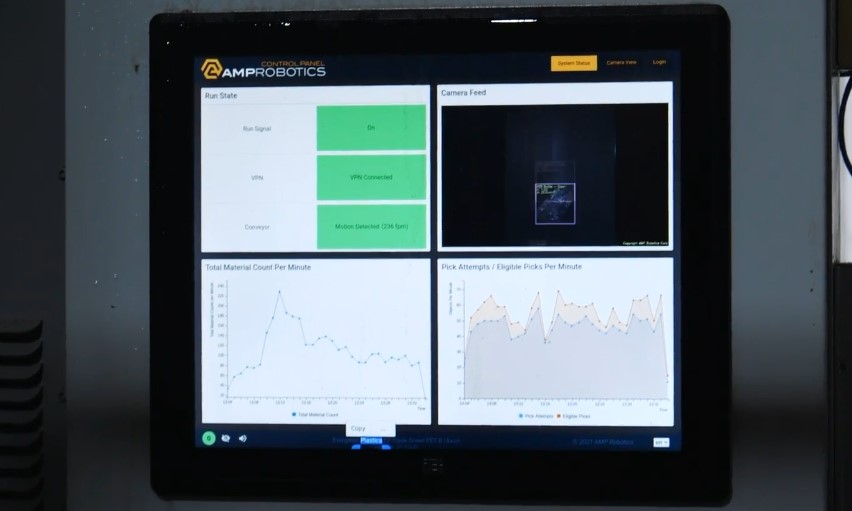 AMP's technology finds and sorts green and clear PET from post-consumer bales of plastic soft-drink bottles at speeds up to x3 times faster and at a higher accuracy than manual sorters can achieve. With AMP's robots, the company has seen a notable improvement in purity along with pick rates of up to 120 bottles per minute—an increase of up to 200%. The robots are removing up to 90% of contamination, on average, across different lines at Evergreen's Clyde facility.
Evergreen President and CEO Omar Abuaita says replacing previously manual sorting processes with high-tech robotics is part of a strategic vision to transform not just his company, but the overall plastics recycling industry.

"With demand for recycled PET (rPET) at the highest levels in history, we simply can't rely on outdated ways of doing business. Evergreen is playing for keeps. Automating our sorting lines allows us to support ever larger PET recycling streams, provide the millions of pounds of food grade rPET our customers have committed to purchasing, and achieve a safer, more efficient work environments for our team."