Launch of our New Conveyor System Range
We are very excited to announce the launch of our new range of conveyor systems here at REP-TEC. Designing and manufacturing conveyors for our customers enhances not only their overall facilities but also the performance of their balers and robotic equipment.
REP-TEC Founder & CEO, Colm Grimes explains, "We are delighted to be able to offer our customers the full package. From experience, if an in-feed conveyor has not been set up properly to work with an automatic baler, a customer is not going to get the best throughput from their equipment. A well-designed, high quality conveyor is as integral to the plant as the baler is.

Now that we are able to design and manufacture the conveyor, we can ensure that the baler or robotic system we are supplying is going to work at its optimum level."
Robots and Conveyors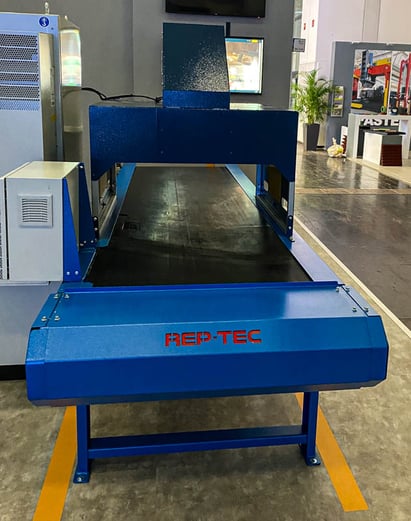 A standard roller conveyor needs to be strong enough to withstand a robot impacting it 403,200 times per week (based on a double shift, 7 days a week). Having a supplier who not only provides the robotic system, but can also retrofit and custom build, high quality conveyors to go along with it, ensures that customers will get the best from their equipment.
Whether you require chain conveyors, rubber belt conveyors or a bespoke system, our conveyors are manufactured using high quality steel and they are designed for busy environments with high throughputs and steep inclines.
Click here to find out more about our conveyor solutions...