My Thoughts on the Future of MRFs
Colm Grimes
We were delighted to have the opportunity to exhibit at the recent MRF and the Markets Conference 2021, run by the team at Environment Media, alongside our partners AMP Robotics. As a supplier of automated equipment into MRFs, a conference like this is invaluable for us.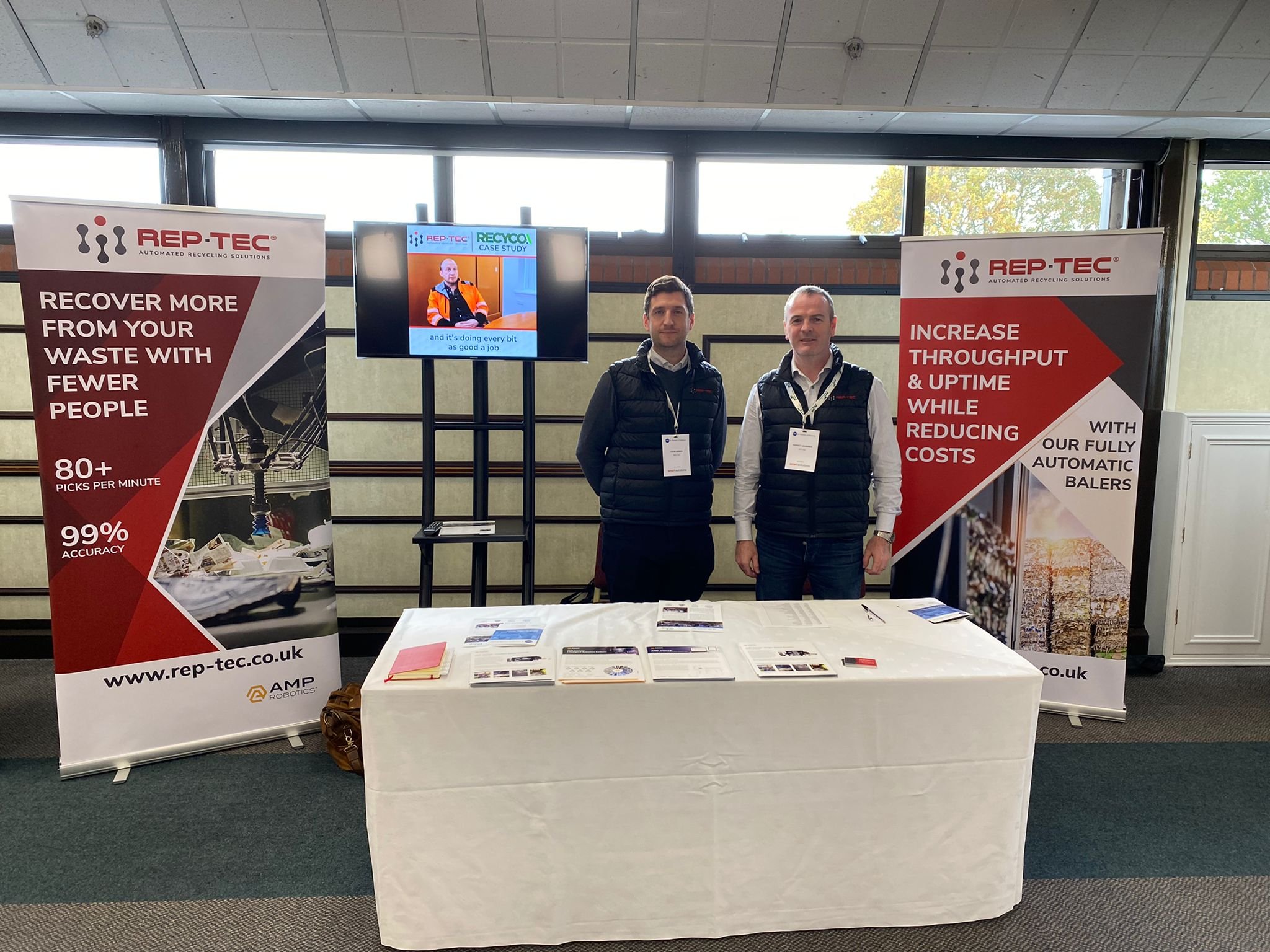 It's a fantastic opportunity to hear first-hand the challenges many of our customers face. And hearing the opinions of experts within the industry gives us plenty of food for thought when it comes to our own product development. When setting up REP-TEC last year, my goal was to help improve global recycling efficiency. We've now made that our company mission and conferences like this make me and my team more determined than ever to do this!
More Versatile MRFs
For me, the conference highlighted the need for MRFs to become more versatile and adapt to the many external pressures such as increasing quality requirements, Deposit Return Schemes, EPR and labour shortages. What stood out was the new technologies available to help with this. Just a few short years ago, some of these weren't available or as advanced as they are now. As a supplier of Robotics and automatic balers myself, I see first-hand the huge impact that data capture and AI can have on a recycling company - not just in terms of profitability and efficiency but also in combating the external pressures they are currently facing.
Joseph Doherty from Re-Gen highlighted how the data capture has been invaluable for internal processes and improving operations. Joseph and his family are a great example of a forward-thinking recycling company - their MRF facility has incorporated the latest technologies to adapt to all the changes.
Chris Mountain from Mid-UK gave a great insight into a modern day MRF as they had recently commissioned a full turnkey upgrade. The focus for any MRF being designed and built over the next 5 years really must be one that is adaptable to the inevitable change coming.
Quality Control
I agree with Simon Ellin, CEO of the Recycling Association, who believes that we need to work collectively to produce an objective standard of material. The problem of contamination is not going away - it's not just China putting bans in place, other markets are following suit. As Simon says, by having a quality standard, it will encourage investment in the industry by removing some of the risks that may currently prevent investment.
Deposit Return Scheme
The impact of this scheme was mentioned by people like Joseph Doherty and Dr. Benjamin Eule from Stadler. Joseph explained that the impact of DRS this would mean MRFs could lose 20% of their current material streams. Ben explained this impact in further detail and broke down how the material compositions were likely to change. The new material composition was predicted to put increased pressure on primary processes as the material changes to a lower density higher volume. Interestingly Ben suggested that future MRFs may benefit from the advancements of DRS and include a DRS input line, which may counter some of initial concerns around loss of valuables.
Labour Shortages
As a robotics supplier we are seeing the impact of labour shortages in our customers plants every day. Laura Allanson from REC said that 88% of recruiters cite labour shortages as their biggest concern for the remainder of 2021. If companies rely solely on labour for their plants to run and remain efficient, they are going to struggle. Laura also said that actual job postings are up 120% from pre pandemic levels, which was quite surprising. Gary Ashburner from AMP Robotics gave several great examples on how robotics and AI are addressing some of these issues in other parts of the world. It was clear from the conference that there is a real appetite for this in the UK and this is really inspiring.
Following our recent robotics installation at Recyco Waste in Omagh, our customer Michael Cunningham, summed it up nicely:
"Robots have allowed us to take back control of our plant. The benefits I'm seeing from using robots and AI, as opposed to using human labour is that productivity remains consistent right across the shift. There are no breaks, no holidays, no sick days."
Our goal at REP-TEC is to help others take back control of their plants and MRFs by bringing the most advanced technologies to the market, in the form of our robotics and automatic balers.
Change is coming, labour shortages aren't going to go away, real live data will change how we operate and as an industry we need to be prepared for that.