Fully Automatic Balers: Twin Ram vs Channel Press Balers
In this post we want to help you understand the differences in fully automatic balers.
What are Fully Automatic Balers?
A fully automatic baler is a machine that requires little manual labour to compress various types of waste material into mill-sized bales.
What Types are Available?
There are two types of fully automatic balers: Channel Press & Twin Ram balers (also known as a two-ram, L-shaped press or dual ram baler). A channel press baler is made with one cylinder and a twin ram is made up of two cylinders. On a Twin Ram baler, the second ram is responsible for ejecting the bale.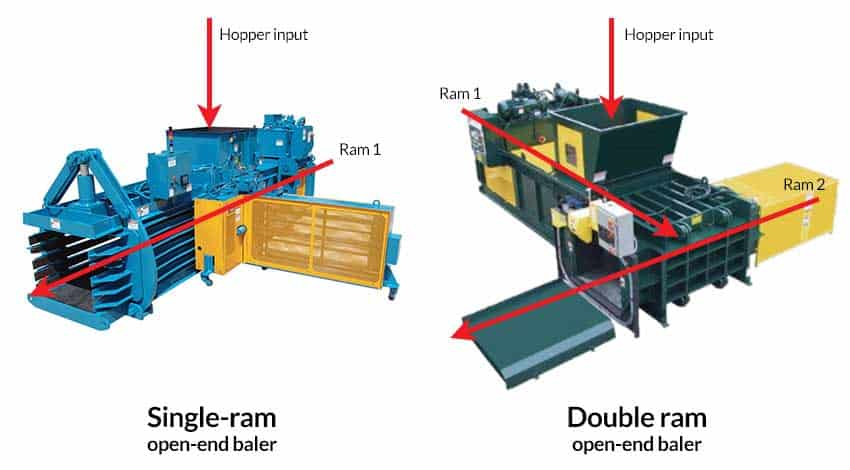 Image courtesy of www.recycling.com
What are the Benefits of Each?
Both balers are great at producing high density bales and both require little manual labour.
TYPE OF WASTE
A Channel Press baler is ideal for processing continuous amounts of single stream material. It is best suited to 24hr operations and is mostly used for packaging such as cardboard and paper.
A Twin Ram baler, is ideal for processing bulky waste of various types, without the risk of contamination (the bale separation door prevents fluid materials from extruding with no contamination from previous bales). Waste material it can bale includes: hard plastics; film, metal cans, UBCs, RDF/SRF, as well as paper and cardboard.
BALING HARD PLASTICS
A Twin Ram baler is great for baling hard plastic as the compaction is done against a solid steel bulkhead and not against the next bale as with a Channel Press. As plastics tend to expand, it is vital to have a large compaction force.
TIES
A Channel Press baler uses steel wire, plastic wire or twine to tie up the bales. Bales can be cross tied vertically or horizontally in a Channel Press baler. This is not possible in a Twin Ram.
With a Twin Ram baler there are more options. You can also use strap or direct wrapping which is ideal if you are processing small particle material such as RDF. Twin Ram balers can be programmed to use as little or as much strapping/wire ties, depending on the material requirements. This can result in lower overall costs.
BALE DENSITY & THROUGHPUT
Both balers produce high density bales, which mean they can be packed tighter into transport containers, which in turn lowers transport costs. The Twin Ram baler produces a higher density bale due to its separation door. This means material can be baled with full force - resulting in very consistent and uniform bales. This is also ideal for expansive materials such as RDF, SRF or PET.
They are both excellent at dealing with high throughputs of waste material.
DATA MANAGEMENT SYSTEM
Fully automatic balers incorporate the latest in technology to allow you to access real-time performance data. REP-TEC's Twin Ram balers have touch screen display with programmable material settings, ensuring you get the best throughput and bale weights for your material.

Who Uses Fully Automatic Balers
Fully automatic balers are used for companies who need to bale large volumes of waste material. Channel press balers are used mainly in distribution centres, retail and MRFs where single stream waste needs processed. Twin Ram balers tend to be used in MRFs, Skip Hire companies, Council-run facilities where a range of different waste material needs to be baled.
Conclusion
Both balers are excellent for producing high throughputs of waste materials with little manual labour required. However your choice of baler will come down to several factors:
The type of waste material you are processing
Desired bale weight – what weight do you want in order to achieve maximum transport weights in lorry/container?
Actual throughput required in T/H
Tie options eg. if you are processing material such as RDF & SRF, these require a non-wire tie and twin-ram with plastic strap/wrapper or direct wrap is a good option
If you would like help determining the best fully automatic baler for your recycling operation, you can contact REP-TEC for a free audit
.